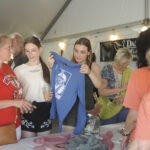 The Bear on the Square Mountain Festival is a completely volunteer-run organization! Every year more than 100 volunteers assist with everything from setting up tents to taking pictures, selling Bear t-shirts, and handing our programs.
Volunteering for the 2023 festival is now open! Time slots range from approximately two to four hours, and job descriptions and responsibilities are described on the sign-up page. You get to pick the task and the time. Thank you!
Thank you for making our 25th anniversary a success!
Festival Dates:
April 20-21, 2024
Live & Silent Country Auction
April 19, 2024, at 5:00 p.m.