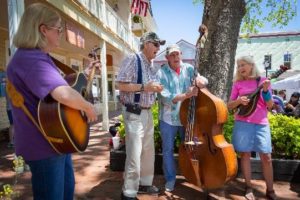 Beginning Friday afternoon, musicians start gathering throughout the square, ready to jam in groups that range from two to ten or more. Bring your guitar, fiddle, mandolin, banjo, bass, lap dulcimer, hammered dulcimer, autoharp, mouth harp, jews harp, or whatever else you play along with a chair and then find someone playing your favorite music and join in. We do the old fiddle tunes, country, and bluegrass.  By Sunday afternoon, your fingers are tired, vocal cords worn out, and your is leg sore from tapping your toes. It's time to go home after the best music jam yet. 'Till next year.
if you need to tune your banjo (or other instruments), click here to check this page.
Instrument Sitting
After hours of 'picking' on the Square, now you can take a break without carrying around your instrument. At the Information Booth on the Square, we will provide 'Instrument Sitting.' Just like a coat check at the fancy clubs, we will give you a token to reclaim your case when you return. Be sure to put a card with your name and number inside the case.

Bear on the Square Festival video by Dave Moser
See you in 2022!
Tentative Festival Dates:
April 23-24, 2022
Tentative Opening Night Auction;
April 22, 2022
Previous schedule:
2019 Bear on the Square Program