The Bear offers free workshops featuring some of the festival's finest musicians, singers, and other artists who share their talent, experience, and knowledge. Below is the 2022 schedule of workshops in Hancock Park, Pick & Bow Tent, and Woodrow's Tent.
In Hancock Park
---
Saturday
3:00  Clogging with Cindy Barnes
Local clogger Cindy Barnes will teach basic steps. Come prepared to dance! No experience necessary.
4:00  Harmony Singing with the Solstice Sisters
The Solstice Sisters (Maggie Hunter, Susan Staley and Anna Hiers) will demonstrate the principles of harmony singing in old-time and folk music. Come prepared to sing! Don't miss their Main Stage performance at 1:30 pm on Saturday.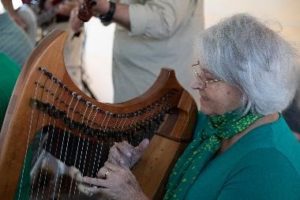 5:00    A Dahlonega Songbook with UNG students
In 2021, a group of UNG students worked together to create a songbook that represents the people and history of Dahlonega. In this workshop, they will present the completed songbook for the very first time! Participants will sing a handful of songs from the book and have an opportunity to take one home.
6:00   Old-Time Mountain Dance with John Kelley and the "Beary" Good Stringband
John Kelley will call some simple group dances with live accompaniment. Come prepared to dance! No experience necessary.
Sunday
1:00    Ballad Singing with Sarrah Ellen
Local singer Sarrah Ellen McDonald will share unaccompanied ballads learned from family members. Don't miss her powerful and expressive singing!
Sarrah Ellen is a founding member of the Georgia Pick & Bow Traditional Music School, an formerly served as Site Director for the Lumpkin County Middle School. As a member of Barefoot Creek and a sometime Buzzard Mountain Boy (she's the tall one), Sarrah Ellen has played and sung on porches & tailgates, in barns and kitchens, all over North Georgia and even parts of North Carolina. She teaches at the Woody Gap school in Suches, GA.
2:00    Beginning Penny Whistle with Jim O'Connor
Whether you'd like to provide an additional melody instrument for your local jam or simply want to take on a rewarding challenge, the Penny Whistle Workshop is the place to be. Multi-instrumentalist Jim O'Connor will demonstrate beautiful tunes on various whistles collected on travels to Ireland, and will teach the basics of penny whistle playing.
A former founding member of the Shoal Creek Bluegrass band, Jim has spent the past 15 years with the popular trio, Mulligan Stew, playing Irish and old-time music. His contributions include mandolin, guitar, tin whistle and vocals. Bring along a "Key of D" penny whistle for active participation in the class, or just come and listen. Vintage Music, located on Dahlonega's Historic Square, will have a supply of D whistles on hand for those who would like to stop by and purchase one
3:00    Pickin' Porch Jam
All are welcome to join local old-time players for a jam. Members of Pickin' Porch meet most Fridays at noon in the UNG Appalachian Studies Center, and they always look forward to sharing their music and community with visitors on the final afternoon of Bear on the Square.
In the Pick & Bow Tent
---
Saturday
12:00 Noon:  Old-Time Slow Jam with Ann Whitley & John Day
Join Pick & Bow instructors and students in an old-time slow jam. We will play common tunes at an approachable pace. All are welcome!
2:00 Uke Jam (Cindy Olsen)
The ukulele is a wonderful instrument to learn, especially if you have never played another instrument. They are relatively inexpensive, easy to transport and have only four nylon strings so very easy to play chords and sing along. Come join the fun! Bring your own ukulele if you have one, but a few loaners will also be available.
3:00    Fiddle Evaluation & Maintenance with Doug Olsen
As proprietor of the fiddle restoration business Fit Fiddles, Doug Olsen collect, restores, and re-homes instruments. He will provide insight into how to tell a good fiddle from a bad one and how to take good care of an instrument in your possession. Doug knows fiddle inside and out—this is a great opportunity to tap his wisdom!
Woodrow's Tent
---
Saturday
11:00   Sacred Harp Singing with UNG students
The collection of shape-note songs known as The Sacred Harp was first published in Georgia in 1844, but today people sing this wonderful music all over the world. In this workshop, students enrolled in the Religious Music course at UNG will talk about the history and practices of Sacred Harp singing and then invite you to join them in singing a dozen favorite songs. Sheet music will be provided, but the melodies can also be learned by ear. If you have your own book, please bring it!
12:00 noon   Bluegrass Slow Jam with Shaky Willow
Join local bluegrass band Shaky Willow in playing your favorite bluegrass tunes! Shaky Willow is a family group of musicians from Dawsonville who love to pick and play bluegrass/acoustic music.
The band consists of four middle and high school-aged siblings who, with the accompaniment of their father, began playing in their living room. Eli has formidable talents on multiple instruments, including playing a driving 5-string banjo for the band. Sadie puts the rock in rock-solid rhythm for the group on guitar. She is an evolving presence on stage with her big personality and vocals. Adley is a jack of all trades. She is multi-talented on several instruments, sings heartfelt vocals, and a mandolin chop that will shake the ground. MaKale, the youngest in the band, has a love for singing and developing her talents as a well-rounded musician on the rise.
Working together, this bluegrass ensemble would make any bluegrass legend proud. With a love for porch picking, they have been invited off the porch into communities for listening enjoyment. They have participated in Pick & Bow as students. Eli, the oldest, is now one of our banjo instructors and Sadie, the next oldest, is an official assistant teacher for guitar.
1:00    Old-Time Fiddle with John Grimm
John Grimm is a champion fiddle and banjo player with a growing catalog of albums. He also owns and operates Vintage Music in downtown Dahlonega and offers lessons both in-person and online. In this workshop, he will introduce old-time fiddle techniques and repertoire. Don't miss his Main Stage performance at 3:45 pm on Sunday!
2:00    History of Appalachian Music and Dance with Barry Whittemore
Dr. Barry Whittemore is a Senior Lecturer at the University of North Georgia, where he specializes in religious and Appalachian history. He will provide a fascinating introduction to the history of music and dance in the Appalachians. Come learn about our local traditions!
3:00  Arranging Music for Stringbands
Joe Newberry & April Verch (of Newberry & Verch) will share their process for arranging tunes and songs that you can use on your own, or with those you play music with.  This workshop will be enjoyable for fans and listeners, too.
4:00    Appalachian/Irish Crossover Tunes with the Swamp Rabbit Ceili Band
This group of friends from Georgia and South Carolina will present a program of tunes that thrive in both the old-time and Irish music scenes. Come hear your favorite tunes in a different style! The Ceili Band performance is always a favorite at Bear.
5:00    Irish Jam
Stick around to jam with the Swamp Rabbit Ceili Band. The playing will continue into the evening. All are welcome.
Sunday
1:00    Bluegrass Banjo with Geoff Hohwald
Whether you are a beginning player or have some experience, Geoff Hohwald can help refine your technique. Geoff is an experienced player and teacher in the North Georgia region.
2:00    Clawhammer Banjo with DADGAD Guitar: A New Old-Time Favorite with  Debbielee and Joe Welchel
This guitar/clawhammer banjo workshop will explore the simplicity and rich sound of a DADGAD guitar as an accompaniment instrument to the Oldtime banjo. We will assist with tuning changes if needed.