How the Festival Got Its Name
Dahlonega's Bear on the Square has been a local legend, going back to the time when a bear cub took refuge in a sycamore tree on Dahlonega's Historic Square.
The story began on a spring morning in 1996, when a mama bear with two cubs made her way into the town's historic square, causing a "big commotion." The mama bear and one cub apparently escaped from town after being seen on North Grove Street later that afternoon. The other cub, however, decided to climb the sycamore tree, where it remained for several hours. The cub was eventually coaxed down from the tree by Forest Service rangers and was delivered unharmed back into the mountain woodlands.
After the bears' Dahlonega adventure, several local residents began kicking around the idea of throwing a "party" to give a boost to local businesses; this ultimately led to what is now the annual Bear on the Square Festival.
Food
2022 Food Vendors will be posted in the month preceding the Festival
Shuttle Service
Need a lift?
The new Historical Dahlonega Shuttle service operates a free golf cart shuttle from the UNG parking deck (behind the Smith House on South Chestatee) to the festival grounds. A free shuttle is also available from our handicap parking lot just off the
square to the festival venue.
Check the map for the golf cart icon locations.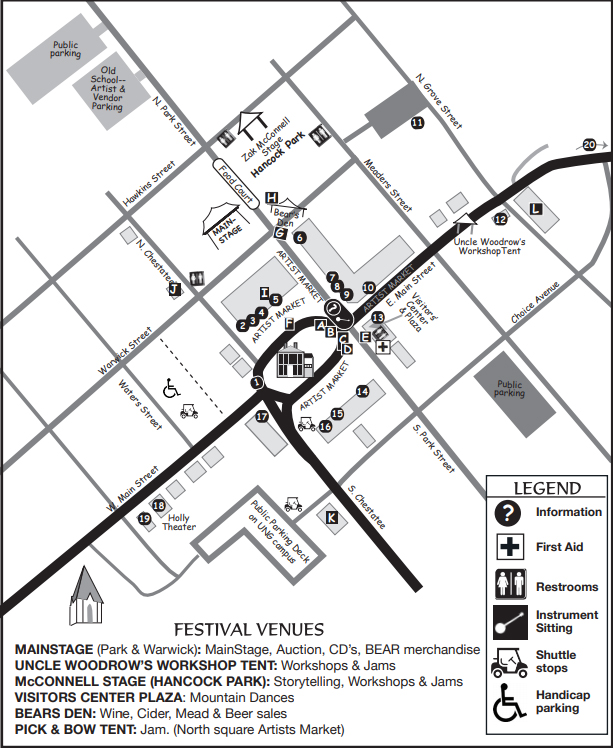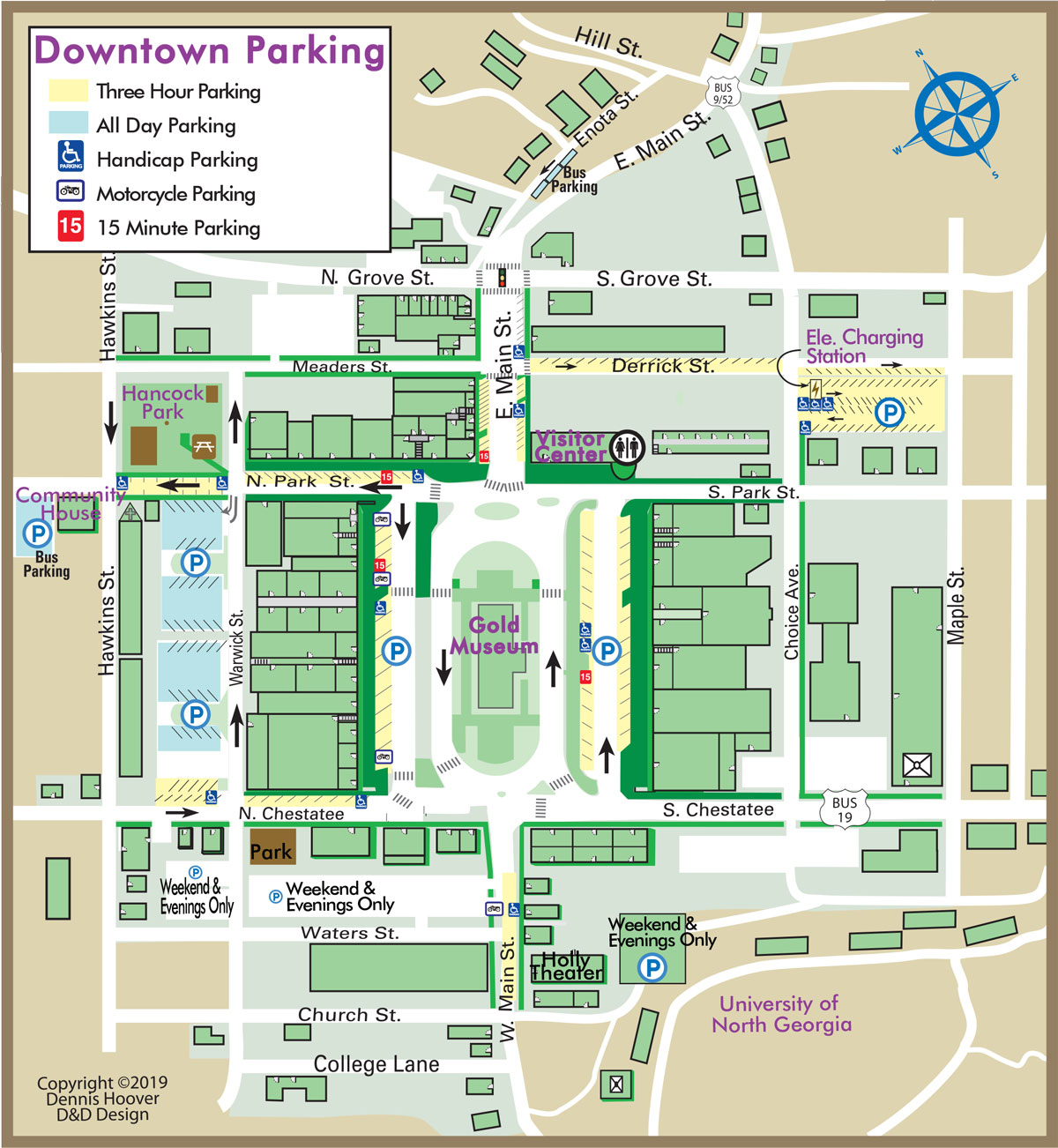 Bear's Den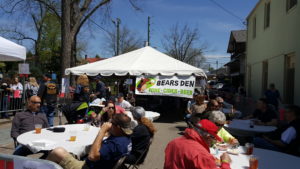 The Bears Den is a venue for festivalgoers to relax and enjoy a brew or a glass of wine or cider while visiting with friends and family.
Located across the street from the Mainstage Tent, adjacent to the Food Court and Hancock Park, this venue is open to all ages, although anyone wishing to partake of alcoholic beverages must be carded before ordering.
So come in and enjoy fine local and regional beverages in a relaxed informal environment, while resting your weary feet a bit.
Can I bring my dog to Bear on the Square?
Dahlonega is very dog friendly, so we do not prohibit dogs at Bear on the Square except in the MainStage Tent – it gets crowded and loud in there which is not a good environment for your furry friend. Be aware it also gets crowded in parts of our Artist Market. As always, you are responsible for cleaning up behind your dog.
Rover.com says make sure your dog displays these traits to know your pooch is festival ready:
Well-socialized with other dogs (you're bound to see some at the fest)
Gets along with all types of people, including kids and unpredictable adults 
Comfortable in noisy environments
Good leash manners and recall
See you in 2022!
Tentative Festival Dates:
April 23-24, 2022
Tentative Opening Night Auction;
April 22, 2022
Previous schedule:
2019 Bear on the Square Program