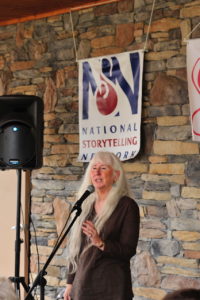 Over the years, stories – filled with tall tales, moral lessons, riddles, and history –  served to entertain, educate, pass down family stories and build the community for early Appalachian settlers. The mission and vision for the Storytelling sessions at Bear on the Square continue this tradition with a focus on sharing stories related to Southern Appalachia.
Plan to stop by Zak McConnell Stage in Hancock Park and spend some time listening to professional storytellers who are keeping the oral tradition of the mountains alive.
Below is an example of a schedule from previous years:
Saturday
Main Stage
10:30 am * Kick-Off – Appalachian Storytelling Sampler with Debbie From
Zak McConnell Stage in Hancock Park (Debbie From, Emcee)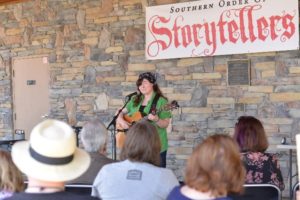 11:00 – There's Stories in Those Hills
12:00 – Appalachian Tall Tales
1:00 – Ghosts of Appalachia
Workshop
2:00 – From the Page to the Stage (Gwendolyn Napier)
Storytelling program is sponsored by Southern Order of Storytellers
Storytelling at Bear
Traditional Storytelling 
Zak McConnell Stage in Hancock Park
The Southern Appalachian oral art of storytelling always has a significant presence at the Bear on the Square Mountain Festival.  
In recent years, the Bear festival has featured Traditional Storytelling, hosted by Debbie From and Melanie Knauff, with participants from the Southern Order of Storytellers and Kuumba Storytellers of Georgia. Both organizations are affiliates of the National Storytelling Network (NSN). 
In 2015, the National Storytelling Network designated Bear on the Square as that year's Southeast Regional Spotlight Event for Storytelling. Along with the designation, the NSN provided a grant of $1,000 to the Southern Order of Storytellers to use to stage the SE Regional Spotlight Event at Bear, which included appearances by National Storyteller Adam Booth.
See you in 2022!
Tentative Festival Dates:
April 23-24, 2022
Tentative Opening Night Auction;
April 22, 2022
Previous schedule:
2019 Bear on the Square Program