Our Auction will be different this year!
We know you'll miss our Friday Night Country Auction and Dinner, and we will, too! We hope to bring it back in 2023 when the Bear has fully awakened from hibernation.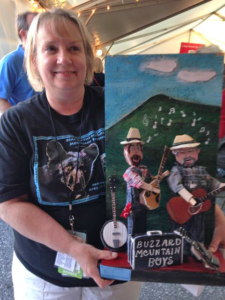 This year, you will be able to bid on a wonderful selection of items curated from our area artists and businesses and our own Artist Marketplace vendors all day Saturday and until the end of the Gospel Jam on Sunday during the festival. Auction items will be on display in the MainStage Tent, and volunteers will be on hand to get you registered to bid and make sure we can contact you if you win. 
The Auction contributes a large portion of the budget we use to keep the festival free to attend, and to bring in the best up-and-coming bands from around the nation as well as our amazing local talent. So bid generously, bid often, and help us make the 2023 Bear on the Square a spectacular 25th Anniversary celebration!