IN MEMORIAM:
The 2023 Bear on the Square is dedicated to a person who was very special to the festival: long-time volunteer and Information Booth Co-Chair Leonard Gay
The dedication will be made at the Sunday Morning Gospel Jam which begins at 11 a.m. April 16 in the festival MainStage tent just off the square.
LEONARD GAY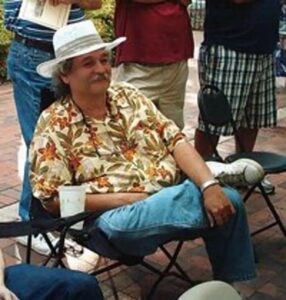 Before becoming a volunteer at Bear on the Square, listening to all the groups jamming around the Square was always a draw for Leonard Gay. But he became even more involved after participating in the Leadership Lumpkin program, when he and his wife, Teresa, were asked to help with Bear on the Square's children's activities in Hancock Park.
After a few years of volunteering there, the couple was asked to run the Information Booth, and that became their "spot." The couple chaired the Information Booth for more than 10 years, and loved, loved, loved it – in part because of how much Leonard enjoyed people. Leonard could talk to anyone and make them feel at home. He was also always "selling" the town of Dahlonega to Bear attendees because he was very proud to live here.
In addition to loving the Information Booth, Leonard's other favorite aspect of Bear was the Sunday Gospel Jam. He and Teresa would always ask someone else to cover the Information Booth so they could both attend.
Leonard Gay passed away on January 4, 2023.
These remembrances come from Leonard's wife, Teresa.
Thank you for making our 25th anniversary a success!
Festival Dates:
April 20-21, 2024
Live & Silent Country Auction
April 19, 2024, at 5:00 p.m.