DATE: Saturday, April 18, 2020 –
7:30
to 
9:30pm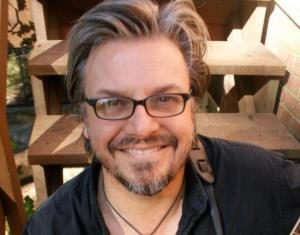 Dahlonega's Bear On The Square Mountain Festival will include the Saturday night special event, the Moonlight Jam.
The Moonlight Jam will take place on Saturday evening from 7:30 to 9:30 pm in the MainStage festival tent.  Like other Bear on the Square events, there will be no charge for admission. 
Ralph Taylor, the festival's MainStage concert promoter, said the jam will be hosted by one of the most beloved bluegrass musicians in the South, banjo artist Rev. Jeff Mosier. Combining performances by Mosier and his band and other guest performers, the jam will allow festival-goers, including jammers here for the event, a chance to bring their instruments and voices and to pick and sing with the pros or to just listen to the music. 
Rev. Jeff Mosier (pictured) is known as one of the founders of BlueGround UnderGrass and the Aquarium Rescue Unit and has a long and colorful history in the jam band genre. He has a special ability to combine bluegrass with trance, jazz and rock music which has made him an icon in the jam band world. During his musical career, he has shared the musical stage with Leftover Salmon, Widespread Panic, Vassar Clements, the Allman Brothers Band and many more. He toured in l994 with Phish and tutored them in the ways of bluegrass. The Phish Companion commented, "Perhaps no guest artist has had as great an influence on the band's music as the Rev Jeff Mosier".
MainStage Concert Promoter Taylor added, "The Moonlight Jam will be one of those special events which have continued to make the Bear On The Square festival one of the best music events in the Southeast. Bring your instruments and bring your voices, and be ready to jam with the Bear."
See you in 2022!
Tentative Festival Dates:
April 23-24, 2022
Tentative Opening Night Auction;
April 22, 2022
Previous schedule:
2019 Bear on the Square Program